Happy Days News 2008

Hey everybody,

Linda and I are grooving together. Being married is great. We are in love.

I have shared my testimony on this web site and also on the Great News Radio Interviews. Now that Linda and I are partners in this ministry. I would like to introduce her to you and talk a little about what God has done in her life.

Well, she is learning to play a few chords on the guitar "a few". She loves photography, drawing and painting and she loves Jesus.
She was searching for God even as a young girl, often gazing up into the clouds and stars wondering about God just wanting to know Him and to hear Him speak to her.

About three years ago she began to awake each night with an urgency to pray that she could not ignore. She would fall on her knees and pray to God, then go back to sleep until morning.

In January of 2005 in her room she prayed and asked Jesus to be Lord of her life, to come into her heart and make her born again.

Around that same time I was going through major changes in my life. The Lord had given both of us an expectancy that something good was about to happen in our lives.

Linda knew in her heart even before we met that God was sending someone to her. As for me the Lord spoke to me as I walked on the beach about five years ago and said, "You don't have to look around for her I will bring her to you."

At 11:15 AM on November 18th of 2006, the Lord spoke to me in my prayer time that Linda was the one He had brought to me.

I proposed to her on December 22nd and she said, "Yes."

Happy days are here again cause happy is the people whose God is the Lord.

Peace,
Ron & Linda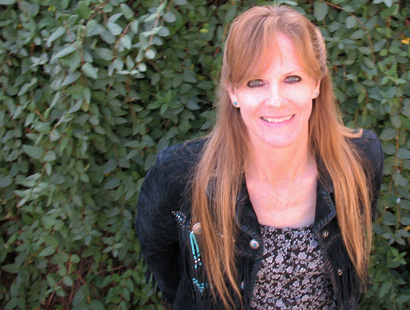 Linda glowing.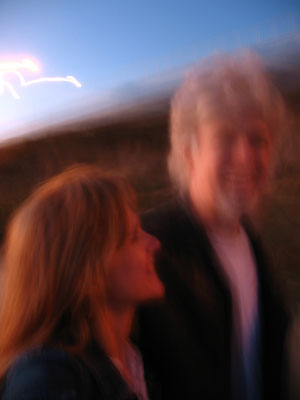 Linda and Ron.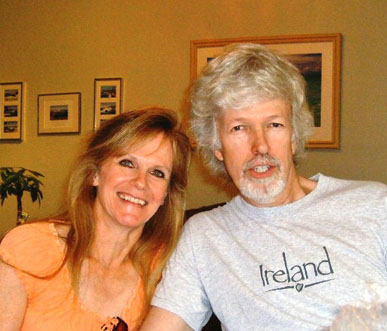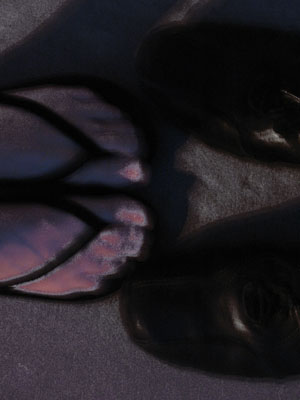 Happy feet at the beach.

Happy Days News 2007

Hey everybody,

On Saturday, June 16th, at 12 noon, Linda and I were married. We are now Ron & Linda Perry. We have had 3 weeks of dreamy honeymoon living. We are attempting to re-enter every day reality, but every day reality has changed for us forever.

God blessed our wedding and reception more than we could have imagined. We are now living in our new (doll house) home in wide-eyed wonder. God has given us everything so freely. We just prayed, believed, and boom shaga laga laga, here we are. All things are possible to those who only believe.

It seemed like this would never happen, but I guess it always seems that way just before a great miracle happens. I believe your miracle is also only a tiny speck of a mustard seed of faith away.

Have the happiest day of your life today,
Ron & Linda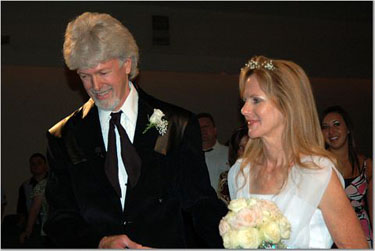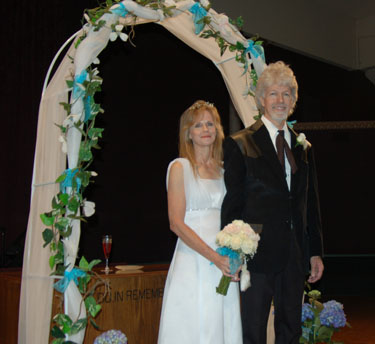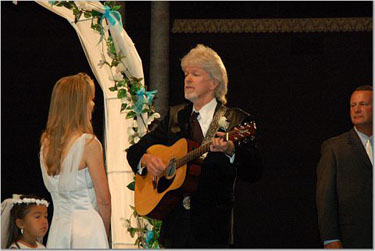 Happy Days News 2005

W
hy all this talk about Happy Days? Why all the emphasis on happiness? Happiness is something that everybody wants and searches for.

Loneliness is killing people in this world today. Even though we may have people all around us, we are really alone. No one in the crowd really understands us. Way down inside we are all alone. Taste and see that the Lord is good. Oh, the joys of those who trust in Him. Psalm 34:8. Schedule a counseling session with God. Come and talk with Him. See if He isn't that friend and rare soul mate that we are all looking for. When every one else is hanging up on us, He is there for us. We can sing to Him:

You're mine, You're always with me

You never leave me all alone

You always keep me company

Your presence in my home sweet home

Happiness is knowing God. It's having Him to talk to. It's God having us to talk to. It's sharing everything with Him and allowing Him to share everything He has with us. It's having Christ in your heart, walking every step with you, whispering to you, "Fear not, for I am with you." Isaiah 41:10. "I will never leave you nor forsake you." Hebrews 13:5. Yes, happy are those who have it like this!

Happy indeed are those whose God is the Lord. Psalm 144:15.

Peace, Ron

Happy Days News 2004

Hey! What's new at Happy Days? Everything! What's up? Most stuff. You know that most stuff is up, right? There is much more up than down. Just look into the starry sky tonight.

Anyway, beside everything being new and most stuff being up, we are working away on some new stuff. The CD in Spanish is coming along slowly, but surely. It is a combination of originals and oldies in Spanish.
Sanctified Oldies Volume 4 is also in progress. We are having a blast recording it. I don't think I will ever get tired of recording Sanctified Oldies. We will keep you posted on the progress of that project.

Another groovy thing is a new DVD project. This DVD includes some music videos from Saturated, some live clips, and more.

The Lord shows me that there are changes coming. These changes will carry Happy Days Ministries into Latin America and overseas. Our home base is Southern California, so for us, overseas is everywhere else.

I want to thank you, those of you that are praying for Happy Days Ministries and Ron Perry. The Lord definitely answers your prayers and causes us to groove on with Him.
You all rock.

Peace, Ron

Happy Days News 2003

Is all kinds of new stuff happening at Happy Days? Of course! We are working on 2 new CD projects and a video project. One of the CD projects is Oldies Santificados. 12 Sanctified Oldies in Spanish. The songs include Angel Baby, Only You, Come, Go With Me, The Lion Sleeps Tonight, Shot Gun, Shout, and more.

The other CD project is a collection of originals—Saturated. These are songs of joy, just like the Sanctified Oldies, only new and different. They will make you want to dance on the sidewalk.

Our new video project is a collection of clips from live concerts, interviews, and a music video of The Lion Sleeps Tonight. It's exciting! Weeeee!

God is opening new doors to "Take The Song Of Joy Around The World." If you like to pray for people in the ministry, please consider praying for Happy Days Ministries. Why not go to our events link, print out the Happy Days Itinerary, and share it with your prayer group? Your prayers are what make the difference.

Thank you for checking out the Happy News. You rock!

Peace, Ron

Happy Days News 2001

October 14, 2001
Hi everyone. The tour is going very well. Every concert has been met with electrfying enthusiasm. I didn't expect the people on the East Coast to be so warm and receptive. People are lookng for something real and alive right now. I think, deep down, everyone wants to experience happy days. It's great to see people that have been through so much smiling and enjoying a little bit of heaven. There truly is healing for us all and happy days for all who call upon the Lord Jesus Christ. This is the day that the Lord has made. Let us rejoice and be glad in it. Psalm 118: 24. The joy of the Lord is our strength. Nehemiah 8:10.

Peace, Ron